This all looks fine, if we compare 2019 with 2020, since in 2020 we've reaped the benefits of the groundwork laid in 2019. Yet, here's how the entire year of 2020 looks like, even though our expenses have grown.
Now, let me get the obvious thing out of the way – the graph above doesn't spell trouble. It's a reflection of how we've been investing our earnings as well as how well I've been tracking our investments. The dreaded ROI.

To simplify this even further – I haven't. I haven't been tracking our ROI (Return on Investment) and that's one of the first things I'm changing this year. For future decision we are going to make sure we've first established our KPIs. All in the effort of making sure we do a better job at tracking our ROI.

We're not at the stage of bleeding money, but we're at a stage where we haven't prioritised our asset allocation.
Here's what got done in 2020, by the numbers:

Modula received a total of 14 releases and 6 new extensions – that's once every two months. Some of these extensions were quite a big undertaking. Here are the extensions we've released in 2020

Role Management
Zoom
Download
EXIF
White Label

Strong Testimonials has received 14 releases and 5 new extensions – that's almost one every 2 months. Here are the extensions we've released in 2020:

MailChimp
Role Management
Filters
Enhanced Emails
Infinite Scroll

We acquired the Check Email plugin and have been improving the plugin's functionality. So far, we've managed to add email logging capabilities as well as squash some bugs. We will add new features to this plugin as 2021 progresses. Some of the planned features, include:

retry failed emails after X retries (user defined)
notify admins of failed emails via other means that are not email
weekly or monthly reports delivered to the admin, with their email deliverability, possibly split across plugin (ex: EDD has delivered 50 emails, WP core has sent 47 with 3 failed and 9 retries).

We've acquired the RSVP Pro plugin, which, I'm ashamed to say hasn't received any major updates. A few minor bugs fixed, but that's all. That'll change this year.
Here's how our support load looks like:

6,340 email conversations (up by 48%)
15,774 messages received (up by 17%)
12,525 replies sent (up by 10%)
4,777 tickets resolved (up by 21%)
48% resolved on first reply (up by 3%)
happiness score of: 91% (86% great, 5% good) with 9% bad.
Here's how our content output looks like:

Published 150+ posts
Updated 80+ existing posts
20+ guest post contributions
150+ outreach emails, out of which some turned into great partnerships with the likes of: ElegantThemes, BeaverBuilder, WPEngine, ShotKit, HostGator, QuickSprout, WPAstra
Rethinking the way we make decisions

We've I've been failing at actually figuring out ways to track meaningful data and act on it. I've been winging it for the past year(s), somehow, managing to "kind of grow" 2 WordPress plugins. I started feeling like I was designated for this job and everything I would touch, would work. If that were true, our chart above would be heading up instead of staying flat. So, for my next move I'm going to

……refocus our efforts and take a closer look at how we spend our time and money – more on this below. We're first going to start with our development process and allocate resources using the "profit-first" approach.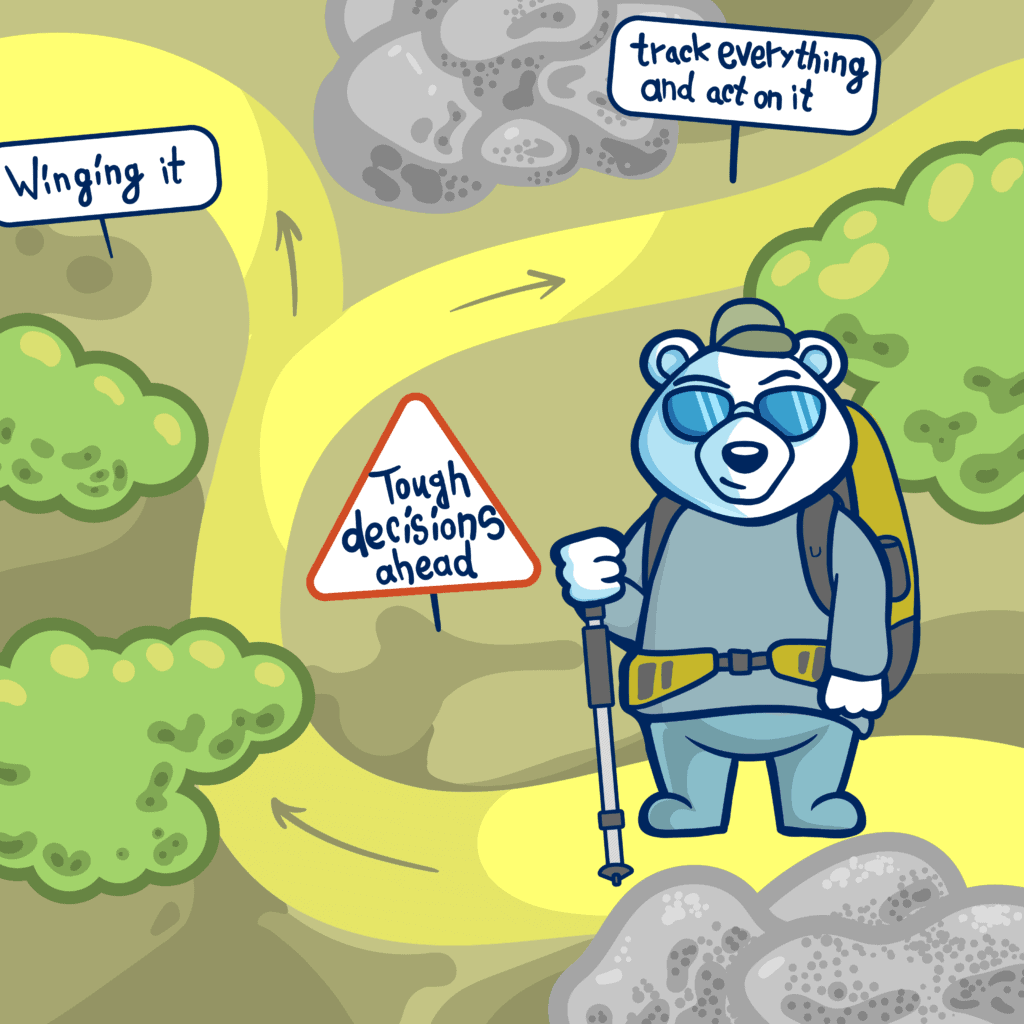 One of the easiest wins I've identified, but yet haven't figured how to fix, is our homepage conversion rate. A lot of our traffic usually lands on our homepage.

Coincidentally, that's our worst converting landing page, through the entire site. We're way below industry standards when it comes to homepage conversion rate.

Our homepage conversion rate: 0.8%. Industry standard: 3%. We're -375% below industry standards. OUCH!

And to top things off …
…we'll have to re-work some of our website's underlying code, to take into account for Google's Core Web Vitals algorithm, which will come into full effect on May, 2021.

We'll be starting with Modula, CPOThemes and shortly followed by StrongTestimonials. And that's not the only aim here – our website re-work will also involve a lot of re-design work. The entire redesign process is based entirely on data and facts, rather than hunches or the old "I just think it looks good".

We'll be using heatmap software (Clarity, by Microsoft is our tool of choice right now) as well as A/B testing software (Google Optimise) is easily the easiest to work with).
On top of the above, that generally offers only an overview, I'm going to be implementing micro conversions. A fancier way of saying we'll be tracking: homepage video plays, button clicks, page depth scrolls (how much a user scrolls on the page), menu link clicks and maybe more.

We will use this data to create a "user flow" map and ideally uncover some patterns of how our users navigate our website.

And to close off this section of our report, another thing we'll be doing this year for which we've laid down the groundwork last year, is improving our telemetry to actually return some sort of actionable data.

Here's what we're working with right now:
Not much to work with here. I'd be more interested in seeing a grouping of popular plugins used alongside Modula, number of average plugins a site uses, specific gallery configurations, average image size, number of images per gallery, etc.
Emphasising our mission:

If you are a client, trying to learn more about the people who work on building Modula, Strong Testimonials, Check & Log Email – it'd be like starting your own private investigation. There's 0 information on our websites about who we are, why we do what we do, and more importantly why we do what we do

This year, a bigger focus will be on the human component – our team, our mission, our core values as well as our vision for the future.
All things we do within this small company should be reflected throughout our products. Even more, I believe it should be reflected in our documentation, our automated support replies as well as through our UIs.

After considerate deliberation, I've come to the conclusion we could be defined by the following core values:
commitment to customers – a deep need to be of help to others
passionate – we love our work & craft and allow it to define us
continuous learning – honing our craft
team work – working together to deliver the best possible product
fun – setting a fun environment where ideas can take shape is a vital part of the creation process
To that extent, we'll be reviewing ALL our doc entries, tooltips, and automated user replies making sure every word aligns with our core values.
Another area that needs improvement is our hiring and onboarding process. I spent most of 2020 hiring and onboarding new employees. I've had the pleasure of onboarding a total of 6 full-time employees as well as 3 part-time US based freelancers we work with. 2 of those full-time employees have left us before the end of the year and 1 at the end of January – I wish them all the best in their future endeavours.
Our team grew by 7 at the end of 2020. It has become clear that we need more focus on our SOPs – trying to cut and standardise as much as possible of what the "guess work" involved in the process.
Cross-promote our products

Modula gets photographers up and running fast, but every website could make use of testimonials. And what do most websites do? Send emails – guess which plugin comes into play here. Oh, and let's not forget that all websites need a contact form – Kali Forms is, while still young, up and coming.

We have to experiment more and see what works and what doesn't.
Re-asses the paid tools we're using

The main goal here is not to save money, but see if we're not actually wasting money on a promise. What I like to call, the marketing promise – the promise that ONE tool will improve our workflow by paying a premium.

One such scenario was our emailing software, ConvertKit.We rarely used it, yet, we were paying a 3-figure yearly fee for something we only used to announce releases. An alternative solution, that's 100x cheaper (it's in their sales pitch) was Sendy. Sendy costs only $59 (a one-time payment) + $5/mo for hosting.

Email sending for the first 62,000 emails/mo is FREE. That's a total cost of $119 in the first year, and $60/year going forward. For the price tag of $870, what we were paying ConvertKit/year we can now pay for Sendy's hosting for 13 years.
Sending 10,000 emails/release, now costs $0 instead of $900/year.

– me, again.
Right now, it looks like we're paying north of $6,000/year for hosting, client support and other various tools.
Here's a wild idea: what if we could do without all these "fancy" tools, reduce costs and at the same time, re-invest that money into the team?
My initial research shows this is doable, as long as we're willing to sacrifice a few things. Hey – even with premium tools, things aren't always premium.
Free alternatives to the paid tools we' ve been using:

HelpScout -> FreeScout. Currently, we're paying $2,200/year for HelpScout. FreeScout is a one-time payment of: 240€ for all their modules. Hosting is only $5/year. For the price we were paying HelpScout for 1 single year, we could be paying for FreeScout for: 33.5 years, including their initial cost.
Kinsta -> SpinupWP. Currently, we're paying $3,000/year to host our websites. While we'll be sacrificing is the good customer support Kinsta has, we'll also be saving up a lot of money. For the same amount we were paying Kinsta for 1 single year we could be paying hosting for our sites for 4 years. This can happen without sacrificing quality, as we'd be hosting on the same infrastructure Kinsta uses – Google Cloud Platform.
ConvertKit -> Sendy + EDD Sendy. We were paying $870/year, when I cancelled ConvertKit. Sendy's a powerful tool used for sending emails. It uses AWS (Amazon's Web Servers) to send your emails at a fraction of the cost other tools are charging. To that extent, I've already setup our own copy of Sendy over on: https://nl.wpchill.com (NL stands for Newsletter).
What we're currently paying: $6,070/year. Yikes! 😱 After making the move to all the above mentioned tools, we'll end up saving $4,897 in the first year and $5,206/year afterwards. First year also accounts for the initial costs of the alternative tools.
Redistributing the money we'd be saving:

$2,000/yr will go towards sponsoring WordPress related open-source projects or repositories. On that same note, I'll be building a "hub" to add awesome contributors from the WordPress space who are looking for sponsorship. The domain for this project is SponsorWP.com. Nothing yet available, but I'll make sure to announce it once I have something to show.
Workplace improvement bonuses: $100 once every 3 months. $400/yr total allocated.
Holiday bonuses: $1,325/yr, assuming each team member gets $150/for all major holiday events/yr + $25/girls holiday (1-8th of March).
Finishing a course & getting a certification: $250 per set of 3 courses. Assuming a total cost of: $2,000 for every set of 3 courses completed by each team member.
Total cost: $5,725, out of which $5,206 will be offset by the costs cutting of moving to cheaper tools bringing down the total out of pocket costs to: $519/yr or $43.25/mo.

My assumptions are that the yearly costs of finishing courses and getting certifications will drop after the first year, when, most will take advantage of this offer. We'll look into more ways of better putting that money to work.
Conclusions

Refocus our efforts, by accessing more data points and acting only when it makes sense financially.
Reduce our yearly costs by moving to cheaper alternatives and self-hosting.
Continue reinvesting into the company through courses, certifications and more often share of know-how through this blog.
Improve our onboarding & hiring processes.
Take a closer look at every word we've put out there and refocus it through the lens of our newly defined core values.
Cross-promote our products and figure out more ways to integrate them one with another.
And that's a wrap for this year. Let me know your thoughts in the comments below.